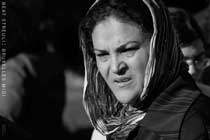 view sample pages
purchase this title
Price: $20

PROJECT 5.33
TITLE: BEAT STREULI BRUXELLES MIDI
AUTHOR: Beat Streuli
FORMAT: Softcover, wire stitched, 280x420mm
PAGES: 32 (25 duo-tone pages)
DESIGN: Fraser Stables with Beat Streuli
RELEASE DATE: September 2006
ISBN: 0-9546156-3-8

Related Project: Beat Streuli Edition
This artist's book consists of a series of street portraits taken at Bruxelles Midi, the main train station in the city. As is typical with Streuli's approach in both photography and video, the photographs in this publication are taken using a telephoto lens, visually isolating the individuals within their surroundings. This form of photographic extraction results in street portraits of unwitting protagonists; their conceptual exile from the crowd simultaneously asserting their distinctiveness and anonymity within the social multitude.

Presented as a large-format book, in which a cadenced encounter of 25 of these portrait images is created through the irregular insertion of blank pages and spreads. The full-bleed printing is uninterrupted by textual explanation or contextualization.

Publication realized by Atopia Projects in collaboration with Beat Streuli and University Gallery, University of Massachusetts Amherst; with support from Murray Guy, New York, and Galerie Erna Hécey, Brussels.

Twenty copies are released with an original photograph by Beat Streuli.